Private Duty
What is private duty?
Private Duty  allows medically fragile patients to receive quality care in the comfort of their home: a setting preferred by most patients and their families. Studies show it is less expensive than a facility stay, costing up to half as much as a single hospital day.
Value-Based Approach to Skilled and Personalized Care
We are dedicated to providing compassionate patient care, top notch customer service and staffing experienced healthcare professionals. All of our RNs, LPNs and LVNs are fully screened and credentialed, and have experience providing care for patients with a variety of ailments.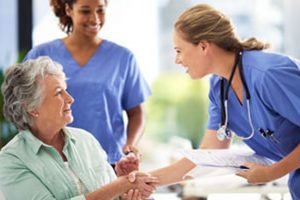 Our team can help you manage complex medical needs at home. This includes:
Ventilator and tracheostomy care
G-tube care and management
Diabetes management
Seizure management
Oxygen management
Coordinating home medical equipment and supplies
TPN infusion
Administering medications and therapies
Personal care (bathing, daily hygiene, etc.)
Educating and training family
Preparing meals
In addition to the hourly home healthcare services, our nurse will:
Communicate any changes to both the office and physician when necessary
Reinforce education provided by hospital staff
Continually promote education in the home
Assist with appointments
How to pay for private duty care
There are many payment options for private duty nursing care. PDN can be paid for by Medicaid, private insurance or private funds.
Caregiving accessible 24 hours a day
Our priority is making sure our patients and families have access to on-call support any time you need it. 24 hours a day, 7 days a week, including weekends and holidays.